INTRODUCTION:

Established in 1958, North China Pharmaceutical Group (NCPC) started a new area of China manufacturing antibiotics on a large scale, Depending on creative ideas and strict quality-control systems, NCPC keeps developing for over 40 years. It is now one of the six enterprises supported by the Chinese government with top-priority to get into the world's top 500.
North China Pharmaceutical Group Corporation Veterinary Co., Ltd. (NCPCVC) is one of subsidiary companies, which is the veterinary preparation base of NCPC. NCPCVC used to cooperate with Shijiazhuang Local Veterinary Factory in the 80th. After separation in 1983, it imported first-class facilities to develop and produce veterinary products. It possesses 330 employees including about 50 operating personnel and technicians. Its products rage covers four dosage forms (power for injection, disinfectants), more than one hundred kinds and more than two hundred specifications products. The marketing network spreads the whole nation, which is well known and highly praised.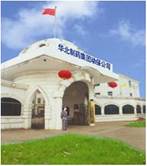 Having extensive experiences from NCPC production, NCPCVC establishes excellent managing system and executes criterions that are strict and scientific. It has passed the check of GMP, which provides solid foundation to the future development of the company. Technique is considered as one of the most important factors in marketing. Based on the advantages of the NCPC techniques, NCPCVC founded R&D department of its own with strong researching abilities. Furthermore, due to the good collaboration with some famous domestic colleges and institutes, it has developed many new products that are very good sale on the domestic market.
Owing to acting on the principle "Health and Quality are first" proposed by NCPC and adhering to the business policy of fulfilling its promise, NCPCVC enjoys a high reputation on the domestic market. With the view to become stronger and better, nowadays NCPCVC is making great strides in the international business cooperation on basis of equality and mutual benefits.
Animal Healthcare Products Manufacturer and get into the company's top 20 in HeBei province.

Comply with contract and value credit company.

Animal Healthcare Products Manufacturer and get into the company's top 50 in China.